(English) 🎖️ 5GROWTH wins the Madri+d Award for Participation in Europe 🎖️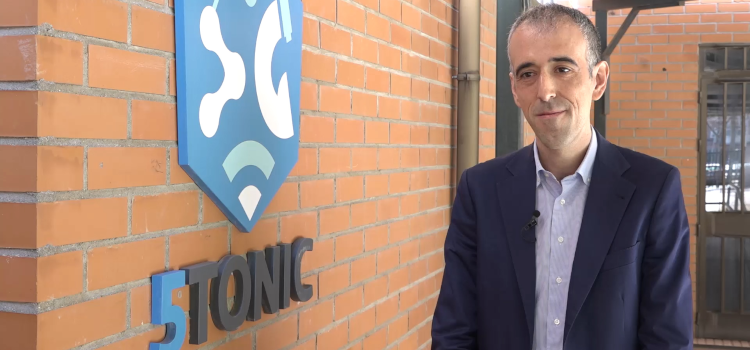 "This award is a recognition of the work we are doing, which is not usually a very rewarding job".
On the 30th of April, the 5GROWTH project won the Madri+d Prize for Participation in Europe at the 13th edition of the awards.
What does the winning initiative consist of?
Carlos Jesús Bernardos: The 5GROWTH project is a Horizon 2020 project involving 21 European institutions, including 4 from Madrid and 2 from Spain. It is a project whose main objective is to validate 5G technology through use cases or pilots in semi-real scenarios, and the aim of this validation would be to see how these technologies can serve what we call vertical industries. That is, end-users would include Industry 4.0, the connected vehicle sector, or the railway structure monitoring sector, for example.
Taking advantage of the experience we gained by validating it, we are also investigating how to innovate it to improve the service in these types of scenarios and the automation part of 5G networks.
What is the current stage of development and what are the main differences between the sites hosting the project?
We are currently working in two phases: firstly, on the technological innovations on how to improve 5G to increase the automation and orchestration of the resources we use, and secondly, we are preparing the pilots that will ultimately be carried out at the sites of the vertical industries, in Portugal, Spain (Bilbao) and Italy (Turin). Previously, we have to test all the necessary interactions to carry them out, which is being done in different places. One of them is 5TONIC in Madrid and other ongoing H2020 projects we are integrating into, namely 5G-EVE and 5G-VINNI, which provide end-to-end infrastructure for 5G testing.
The main difference lies in the industry vertical they address. In Bilbao, we work in Industry 4.0 with Innovalia, with Erikson and Telefonica being the equipment manufacturers and operators. Then in Portugal, we have two use cases: one is monitoring railway infrastructure and the other is about energy distribution, with Altice Labs as the operator (Portugal Telecom). In Italy, we have another Industry 4.0 case in which Comau is the vertical, and Telecom Italia and Erikson are the operator and manufacturers involved.
How did the idea for the project come about?
It stems from the work we have been doing previously, specifically in the 5G TRANSFORMER, which is a phase 2 technology development project. In that research, we were looking for breakthroughs in 5G and the natural next step was to test these breakthroughs in real or semi-real cases in production environments. We brought together a large part of the 5G TRANSFORMER consortium and opened up to new partners, allowing us to get to that final end of the industrial site application, to be able to make the variation of 5G in an environment as real and as close to production as possible.
Where do you think the strengths or main competitive or innovative advantages of the project lie?
The project has great strengths, firstly because of the team that makes it up. It is a consortium made up of notable institutions with a very broad background in 5G research, most of which also have previous experience and collaborations. On the other hand, because we have involved new partners with a real interest in applying the 5G variety in their infrastructures. To give the closest example, the collaboration with Innovalia in Spain, which we validated with 5TONIC. They have a real interest in how 5G can facilitate the task of calibrating their measurement infrastructures in vehicle factories and how it can save them costs through remote management.
What results do you expect from the project?
On a large scale, we expect two types of results: On the one hand the validation of 5G, i.e. to see that 5G is able to do what it promised in terms of facilities and new innovations for vertical industries. To do this, we must validate the capabilities of low latency, high reliability, massive connectivity of devices, etc. And all this in a real environment. On the other hand, we also want to innovate and generate new technologies, new mechanisms that allow 5G to evolve, grow and provide new functionalities based on the needs of the industries that make up the project.
What does it mean to receive this madri+d Prize for Participation in Europe, and how do you think this award can contribute to your evolution or consolidation?
We are very pleased to receive this award because it is a recognition of the work we are doing. We are a research group that has been working on European projects for a long time and it is a great honor to receive this recognition.
I think that this award shows that we are doing things well, working on European projects, and above all coordinating them, which is sometimes a job that is not so appreciated because what we like to do is research. However, to be able to do research we need the necessary resources, and collaborative research projects in Europe are fundamental. For us, it is a very valuable tool as it allows us to be in contact with other institutions, companies that are making the products on which our research is based or on which we are trying to base it. Coordinating the projects is part of it, and it also offers a position that allows you to interact with other institutions and also with other projects at the European level that if you didn't coordinate you wouldn't have. Coordinating is a very valuable aspect of the projects we are involved in.
What do you think of the work of the madri+d Foundation and the support it provides to researchers in Europe?
I think the foundation does a very valuable job. It provides us with support and information that we would not otherwise have. This information is key for us: we need information and support both from our university, which does it, and from institutions at the regional level such as the madri+d foundation, or institutions at the national and, of course, the European level. For us, it is a very important tool.
Watch the video interview in Spanish below:
Source: madrid+d
Noticia en español aquí.
Hits: 122