Online Workshop – Layer123/5Growth: Powering 5G in Industry. 9 July 2020, 10am CET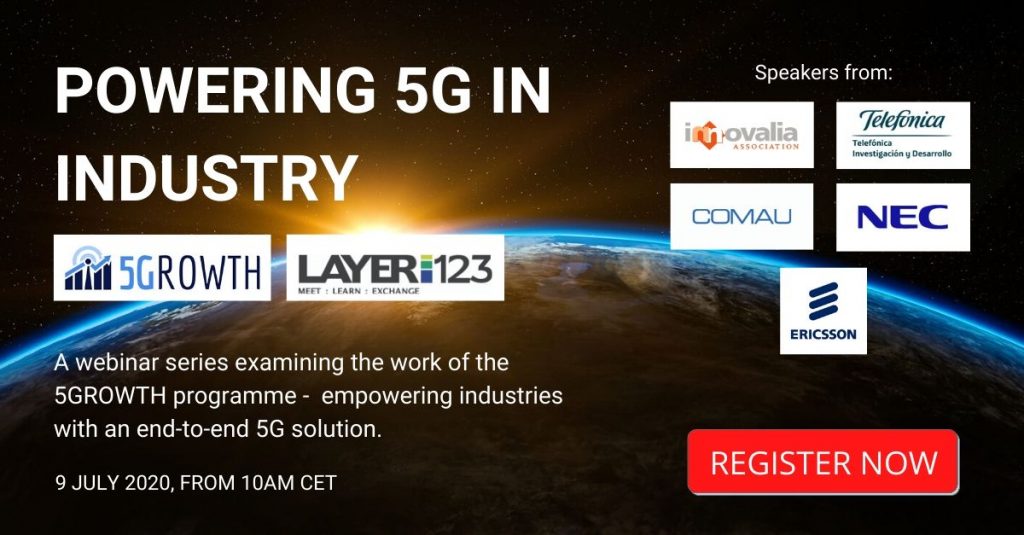 Layer123 is pleased to announce a series of webinars highlighting the work of the 5GROWTH consortium, a project dedicated to empowering industries with an end-to-end 5G solution that is AI-driven, automated and shareable.
The 5GROWTH project will look to deliver a scalable, open and applicable 5G solution for vital industries like transportation, energy and 'industry 4.0'. By providing freely accessible documentation, standards and guidelines, the project hopes to play a key role in allowing Europe's industrial companies take maximum advantage of the 5G revolution and use it to transform their service delivery.
These webinars will summarise the work done by the project so far, the deliverables completed, and the exciting new applications and use cases that the work of the 5GROWTH Consortium is making possible.
Speakers represent:
Agenda of the event:
10:05-10:20

"5G: The greatest platform for co-innovation, at the core of 5GROWTH project" Manuel Lorenzo, Head of Technology & Innovation, Ericsson Spain

With the evolution of 5G and beyond, new use cases for the digitalization of industries are creating business opportunities across all sectors. 5G is more than a network — it is the greatest platform for co-innovation. And 5GROWTH project explores such potential for co-innovation on a variety of sectors including Industry 4.0, and through innovative approaches for the integration of 5G non-public and public networks supporting this vertical domain.

10:20-10:50

"The viewpoint from the verticals" Simone Panicucci, COMAU; Jesús Alonso, Innovation Project Management, Innovalia Association

The remote operation of highly sensitive equipment can provide many business advantages, although it represents a major challenge for communication technologies. With this 5Growth pilot, Innovalia wants to open the door to new services and applications for their customers. Some key use cases which combine 5G disruptive characteristics with concrete manufacturing scenarios.

10:50-11:05

"Slice Capability Exposure as an enabler for NSaaS" Diego Lopez, Head of Technology Exploration & Standards. GCTIO. Telefónica

A discussion on the orchestration challenges for slices comprising NPNs and PNs and how capability exposure mechanisms address them

11:05-11:35
Panel Discussion: 5G for industry 4.0: NPN-PN integration All speakers
11:35-11:50

"5Growth innovations for automating the vertical service (or application) deployment and lifecycle management over 5G" Xi Li, Senior Researcher 5G Networks R&D group, NEC Laboratories Europe

An overview of the 5Growth concept and key innovations to build private 5G networks for different verticals, highlighting the high level architecture design and the developed 5Growth open source platform capabilities.

11:50-12:30

"vrAIn: Deep-Learning based Resource Orchestration for Virtualized RANs" Andres Garcia-Saavedra, Senior Researcher at NEC Laboratories Europe

We demonstrate a vRAN resource orchestration algorithm that integrates into O-RAN´s Non-Real-Time RIC to optimize jointly radio and computing resources.
For more information, see the 5GROWTH website , LinkedIn , YouTube , Twitter ,  Instagram , and GitHub repository.  5GROWTH is running in the framework of the 5G Public Private Partnership (5G-PPP) Phase 3, Part 3: "Advanced 5G validation trials across multiple vertical industries", co-led by the European Commission and industry.
Hits: 308